Many of the world's best golfers now work harder and just as importantly, smarter than ever on their fitness and strength training. High tech video analysis is employed to find swing faults that the naked eye can't detect. The information gleaned by the tech experts is used by the health and fitness staff to develop a training and therapy regime. Patrick Reed might not be on board, but Jordan Spieth, Shane Lowry, and Rory McIlroy are.
"I started to work on my fitness and strength for injury prevention and biomechanical standpoint. I got biomechanically analyzed in 2011 and we saw my peak club head speed was 18 inches before impact, my club was slowing down before I hit the ball. That was because I basically had no stability in my hips, my glutes, and my legs, especially on my left side, so a lot of stability work on my legs and my core and legs. I've always been able to create speed, but haven't always been able to hold onto it through impact. ..  I'm doing a lot of single leg work. I've always had the ability to turn my hips fast and to have that explosive power, but if I'm not able to hold on to it or control it then either the ball is going to go all over the place or I'm not going to be able to control it" Rory McIlroy from Me and My Golf
A new health and training paradigm
The new paradigm in golf training involves biomechanical analysis of the golf swing and much more. In addition to high tech swing analysis, players are given a full body movement screen which tests flexibility, balance, stability, and coordination. Biomechanical issues, imbalances, weaknesses, and negative tendencies are all assessed. One company that is at the forefront of this paradigm is Titleist Performance Institute (TPI). They put an emphasis on players improving movement fundamentals of mobility, coordination, and balance, and only when these fundamentals are mastered does strength, endurance, power, and skill acquisition become the focus of training. One player who uses a team full of TPI experts is world number one Jordan Spieth.
A key member of Spieth's team is TPI Chiropractor Troy Van Biezen, the two have worked together since the days when Spieth was looking for a prom date. Van Biezen who also looks after Zach Johnson, Jason Dufner, and Rickie Fowler, must be doing something right. The advanced swing analysis can flag up biomechanical issues, but the golfer's health and fitness team need the manual therapy and corrective exercise knowledge to address the issues. A good example of where Van Biezen and the rest of Team Spieth put the paradigm to use was when his coach Cameron McCormick, noticed a tendency for him to sway when swinging. Van Biezen and Spieth's trainer Damon Goddard worked to increase his hip mobility.  "The soft tissue component is crucial, imbalances and dysfunctions need to be addressed."  said Van Biezen who uses A.R.T. soft tissue therapy.
Van Biezen with Jordan Spieth and Zach Johnson celebrating major victories!
"Troy Van Biezen has been an integral member of my team since high school, I trust him fully and he now tours with me. Chiropractic care with a goal of achieving better postural balance and injury prevention, has been invaluable to my health, performance, and success." Jordan Spieth 
How can recreational golfers train smarter and prevent lower back pain?
One thing full body movement screening often detects is stiffness of the mid to upper back. Lower back pain in golfers is an example where addressing the problem is often best served by improving flexibility. "If the mid-back and hips are not rotating enough the lumbar spine may compensate and the lumbar spine is not designed for a great deal of rotation", says TPI / ART Chiropractor Shane Lawlor who has spent many years on tour with the likes of Shane Lowry and Padraig Harrington. "Some of the mistakes that I see amateur & professional golfers make is a poor warm up routine and not investing enough in hands on therapy. The biggest downfall is that they neglect to build a team around them. All of these contribute heavily to the common injuries experienced in the sport."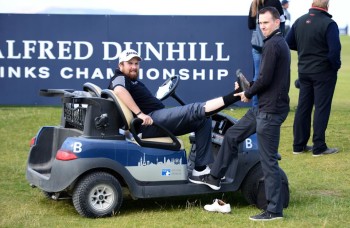 Photo golffile.photoshelter.com
"Shane is an integral part of my performance team and he has definitely added to my game over the past 3 years. His combined skills of Chiropractic & ART ensure that I am prepared physically for each round I play. I believe working with Shane is helping me to prevent injuries and will hopefully lengthen my career." Shane Lowry
Two versions of this post were published:
The New Age of Golf Training is Creating Stronger and More Athletic Golfers Than Ever Before
What Performance Therapy Looks Like For Top Golfers
You may also like:
High Hamstring Strain: Best Low Compression Exercises
Best Glute Medius Exercises for Runners
Articles:
Telegraph  The ART of Active Release Techniques for Injuries
Athletics Weekly  Performance Therapy for Greg Rutherford
220 Triathlon  ART- How is it different from sports massage
Vigour Magazine  ART can release tight muscles to improve performance
Progenex  ART for CrossFitters
FIT Institute  Research based hamstring therapies